Top 5 Tiktok growth tips to take your page to the next level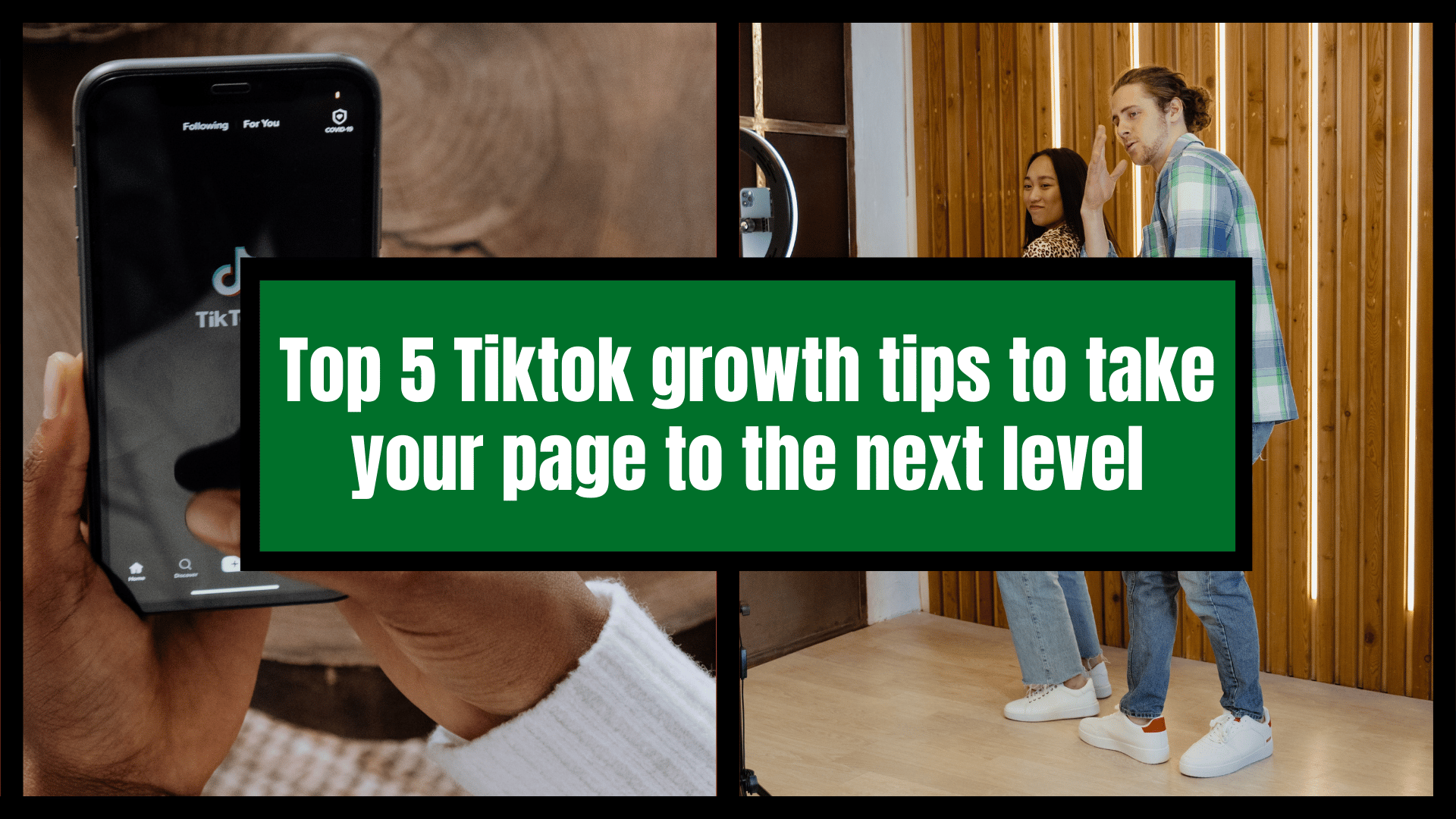 Level up your Tiktok with tips from the experts, showing you how to ensure your next video goes viral.
Are you trying to take your TikTok to the next level? The social media platform has taken the world by storm, so you need to get on board before it's too late.
Maybe you are a start-up company looking for a cost-effective marketing strategy to kick start your big idea, or perhaps an individual who has been in the marketing industry for years just keeping up with the latest marketing channels.
Either way, this article will explain five Tiktok growth tips to take your page to the next level, tried and tested by the team at Emerald Green Media.
5. Video quality – make sure your video is clear
TikTok is a platform consisting predominantly of short videos from 15 seconds to three minutes. However, a brand-new feature allows videos of up to ten minutes long.
Although, since the majority of the videos on the platform are short, it is core to success to catch the attention of viewers immediately. To achieve this, creating high-quality content needs to be prioritised.
Although, this does not necessarily mean you need to hire a professional videographer. Instead, you should prioritise good lighting and invest in a phone with a high-quality camera to achieve attractive content that will entice the audience to keep watching.
Research has shown that the attention span of the average TikTok user is incredibly short, making it paramount to keep your high-quality content is kept short and snappy.
If you are planning a more informative video that is longer, it is recommended to keep this interesting throughout, using a voiceover, or even split the video into different parts, labelling accordingly.
4. Trending sounds – a bandwagon you should jump on
The importance of trending sounds and current trends cannot be stressed enough on TikTok.
The platform allows users to tap into trending sounds and explore videos utilising these, giving enormous potential exposure to millions of people who do not follow the page or do not have your videos recommended on their 'For You' page.
Trending sounds change every day, and it is important to stay up to date with these by actively using the app, as this is the easiest way to fully understand the context and use of the sounds.
3. Hashtags – know your content niche
Hashtags! We all have seen them but do we know how to use them properly? To effectively integrate hashtags into your TikTok strategy, you need to find your niche.
It is important to pick relevant hashtags that you can rank for according to your topic authority. For example, if you have less than 100 followers, a broad hashtag, such as #Ireland, would be difficult to rank for.
This is because more established pages with a higher follower count and views will have a higher topic authority.
Instead, try more niche hashtags with no more than 100,000 views. For example, if your video is from County Donegal, you could use the hashtag '#DonegalTourism', which has around 6000 views, as it is clear you will rank for your niche.
As your page grows, you should implement more competitive hashtags into your growth strategy as your topic authority increases.
Being aware of your niche and how hashtags can play into this is one of our Tiktok growth tips to take your page to the next level.
2. Interact – take part in the conversation
To a social media algorithm, there is nothing worse than an account that doesn't actually interact with the platform other than posting content.
TikTok is more likely to push content from creators who actively engage with content from others, as it demonstrates interest and passion.
Other than interacting with other creators resulting in a push from TikTok towards the for you page, it will also help build a community, resulting in more authentic connections with followers.
1. Consistency – one of the most important Tiktok growth tips to take your page to the next level
TikTok requires patience, no doubt, but all it takes is one video to go viral for your profile to be taken to the next level. There are no penalties for posting too much on TikTok.
However, it is a good idea to try and keep the content consistent, creating authentic content on a regular basis. This way, your followers know what to expect.
For example, instead of posting seven videos all at once, you should spread these out throughout the week.
One video per day is great as it keeps the content consistent but is not overwhelming for a small team or individual to commit to amidst other tasks. Remember, quality should always take priority over quantity.
So, there you have it! Top five Tiktok growth tips to take your page to the next level, as tested by Emerald Green Media.
TikTok is an amazing platform for companies of all sizes, and implementing these ideas into your growth strategy is the answer for success!
Notable mentions
Viral challenges: Similar to trending sounds, taking part in viral challenges can help you hit the sweet spot on the social media sharing app. People love behind-the-scenes content and this is a great way to build up rapport with potential customers.
Profile picture: Having an eye-catching profile picture that fits with your page's niche will help followers recognise your content every time it appears on their 'For You' page.
Test different types of content: A lot of what goes into growing a following on social media is trial and error. So, share different video content ideas and try new things. You never know how they could go!
FAQs about Tiktok growth tips
How long does it take to grow on TikTok?
Unfortunately, there is not timeline for growing on TikTok. However, posting content consistently will increase your likelihood of having one video go viral.
What's the best time to post on TikTok?
Due to TikTok's algorithm, there is no ideal time to post videos. This can be both a blessing and a curse, as videos you posted months ago will continue to bring in views, while fresh videos might be slower to take off.
How often should I post on TikTok?
In opposition to other social media sites, more really is more when it comes to posting on TikTok. The video sharing app doesn't penalise users for over-posting. However, the more you post, the more you will increase your likelihood of going viral.